Business
GAA Announces the Launch of the 2018 ATIGS Website
ATIGS Website Launch

GAA News - WASHINGTON, DC. – Events organizers Global Attain Advancement, LLC today announced the launch of the 2018 Africa Trade and Investment Global Summit interactive and mobile-friendly with rich content website located at www.atigs2018.com
About ATIGS 2018
ATIGS is a high-level, prestigious, biennial business platform designed specifically to promote and facilitate international trade and foreign direct investment in Africa. The event themed "Driving Trade, Unleashing Investment and Enhancing Economic Development" will bring together over 2,000 participants from more than 70 countries which consist of 120+ high-level government officials, 350+ global investors with interest in Africa, 800+ companies looking to expand or establish their business operation in Africa, 300+ companies from Africa sourcing for international partners, 130+ trade promotional organizations (TPOs) and investment promotion agencies (IPAs) from various African countries all under one roof.

About the Organizers

The Africa Trade and Investment Global Summit (ATIGS) is organized by Global Attain Advancement, LLC (GAA), in partnership with leading development and media houses globally, patronage from national governments, and supported by several key sponsors. GAA is an event's, publishing, and trade missions company, that formulate a portfolio of high-level investment, trade and development summits, forums, meetings, exhibitions and exploratory trade missions in the manufacturing, agriculture, renewable energy, construction, technology, & tourism industries.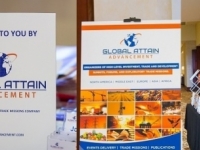 For more information about the Africa Trade and Investment Global Summit: Contact: Ceci Guevara, Chief Marketing Officer Event Dates: July 1 -3, 2018 Event Location: Omni Shoreham Hotel, Washington, D.C. Organizers: Global Attain Advancement LLC Email: atigs@gaadvancement.com Telephone: +1 (512) 944-2710 Website: www.atigs2018.com Official Hashtag: #ATIGS2018 Supporting Hashtags: #WorldBizWeekAfrica Twitter: @gaadvancement ATIGS Official Trade Partner & ATIGS Global Representative Yawo AMEGA, Managing Partner, Trustrade Consulting Group, LLC Managing Director, Trustrade Consulting Group, SARL West-Africa | Email: amega@atigs2018.com Cell: +228 9093 9090 / +228 9832 4444 Media Contact Melissa Brown Media Relations, Global Attain Advancement media@gaadvancement.com
Keywords: #atigs2018 #worldbizweekafrica #africa #trade #investment #sdgsafrica #agoa #global #investors #summit #tradeshow #conference #forums #development #highlevel #sdgs #globalgoals #drvingtrade #unleashinginvestment #agenda2030 #agenda2063 #tradefacil
Liability for this article lies with the author, who also holds the copyright. Editorial content from USPA may be quoted on other websites as long as the quote comprises no more than 5% of the entire text, is marked as such and the source is named (via hyperlink).
| | |
| --- | --- |
| | Daren Frankish |
| | RAHMA-SOPHIA RACHDI |
| | Ruby BIRD |
| | Yasmina BEDDOU |
| | Aurangzeb Akbar |